LA's First Inductee into National Optometry Hall of Fame
Selection to the National Optometry Hall of Fame is our profession's highest honor. Inductees include optometry pioneers such as Charles Prentice, Irving Borish, Glenn Fry, Jimmy Bartlett, & Admiral David Sullins, Jr., just to name a few. The Hall of Fame recognizes a Doctor of Optometry's national stature, their significant and enduring impact on the profession, as well as a full range of contributions including, but not limited to, their professional leadership, academic leadership, and research contributions.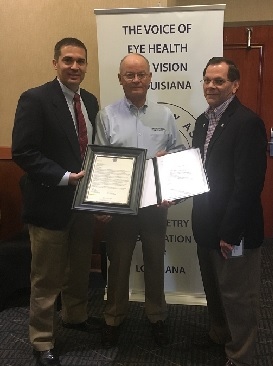 An inductee's dedication and commitment to their patients, to their community, and to the profession of optometry as a whole, are evident by an impressive collection of activities and responsibilities they have held throughout their career. Their luminary leadership and outstanding contributions cause our profession to forever be in their debt.
It is our distinct honor to announce the National Optometry Hall of Fame's 2017 Class includes the very first inductee
from Louisiana in history, our very own, James D. Sandefur, Executive Director of the Optometry Association of Louisiana.
The Induction Ceremony will take place during a "meet & greet"-style gathering at Optometry's Meeting in Washington, D.C., on Thursday evening, June 22, from 7:00-8:00pm at the Washington Marriott Marquis Hotel. Please make plans to attend.
The OAL wishes to thank it's members who were instrumental in the nominating process: Dr. Rob Janot, Dr. Darby Chiasson, & Dr. Camile Chiasson. Pictured here, Dr. Sandefur is presented a framed copy of his induction letter by Dr. Chris Wroten, as well as a book containing all of his letters of recommendation by Dr. Rob Janot.
Thank you, and congratulations, Jim!
Kevin Kasovich, OD
President, OAL